Do you have what it takes to be the next Short Order Hero?
The creators of Cthulhu: A Deck Building Game and Onami are launching an exciting new game, Short Order Hero, May 15th, on Kickstarter!
Wyvern Gaming is proud to present, Short Order Hero. Build recipes faster and better than your opponents in this devious and cutthroat game of battling line cooks in a greasy spoon. Up to five cooks will undertake an epic culinary battle with unique ingredients and recipes in the diner arena, see who comes out on top in this family friendly gastric competition. With concept and illustration by former Disney and Warner Bros. artist, Greg Wray, players are sure to delight in the style and design put into this game.
Short Order Hero will be at Gen Con 2017 where copies of the game will be available for Kickstarter pickup, sale and demo.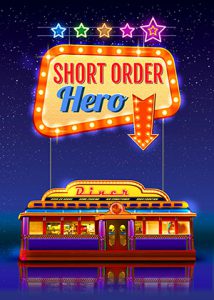 About the game:
Short Order Hero is a devious, cutthroat, and challenging game for friends wanting to flex their master culinary chops. The story behind the game is that you are one of two to five short order cooks working in a greasy diner. The owner of the diner tells the crew that at the end of the night he will only keep one cook in the kitchen, and the battle is on!  You work your rump roast off to serve the best recipe you can, but your competition will do their very best to sabotage you; as you seek to ruin their recipes and their chances as well.
Can you win and secure the job and become the next Short Order Hero?
Five meals have been ordered and each cook vies to create the best. Each cook is dealt seven Ingredient Cards that they will use to both make their recipe worthy, and make their opponents' recipes the worst. Perhaps add a little Spices Ingredient Card to perk up the final dish? Or perhaps some Hairs and Cockroaches in your opponent's recipe to make their dish disgusting? You're the one vying to become the best short order cook possible, so you get to decide.
The cook with the highest total recipe value from all their prepared dishes wins and becomes the Short Order Hero!
Can you stand the heat of this competitive kitchen? Find out with Short Order Hero!
Number of players: 2-5
Time required: 20 to 30 minutes
Recommended ages: 8+
Wyvern Gaming website: https://wyverngaming.com/
Short Order Hero website: https://wyverngaming.com/SOH/
Facebook: https://www.facebook.com/WyvernGaming.TableTop/
Twitter: https://twitter.com/WyvrenGaming